In 2022, we had to adjust our release dates a number of times. We always communicated as well as possible about this, but it did not give the predictability that you may expect from us. In 2023 we will therefore release at regular intervals, so that you regularly have access to new and improved software.
Major releases 2023
Four major releases are planned for 2023, the first of which has already been rolled out on SaaS Default ring. The intended schedule for the rest of the year is as follows: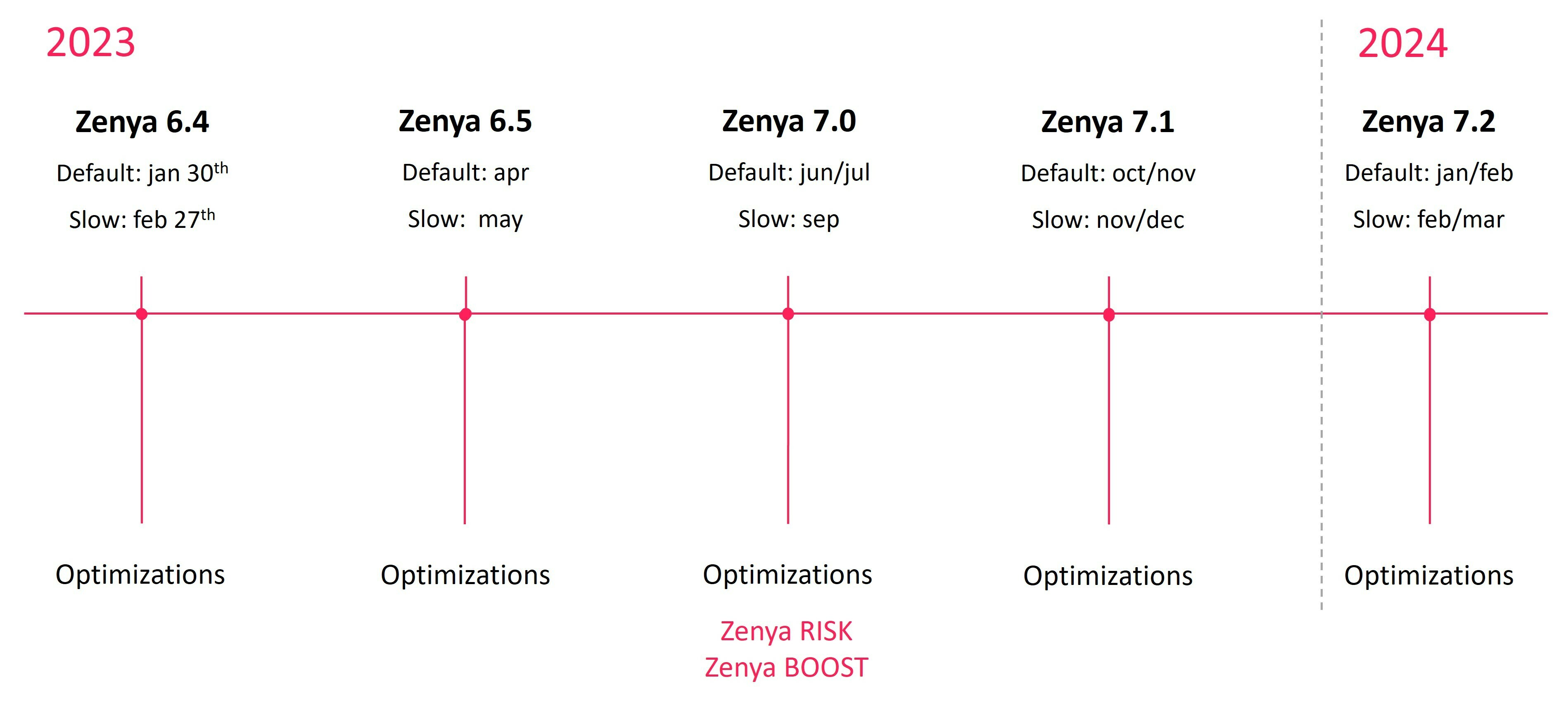 Not every release will have the same impact. We think that four major releases will therefore be manageable for most organizations. We have taken into account holiday periods with low occupancy in terms of timing. In the summer, we therefore use a longer period than usual between the roll-out on the Default and Slow ring. We want to prevent organizations from having to do work in the middle of the holidays around a rollout of the release.
Scope & phasing
In any case, each release will contain optimizations. The community ideas are our main source for this. In Zenya 7.0 we also release the first versions of Zenya BOOST *) and of the new generation Zenya RISK **). Both modules will be delivered in phases. This means that after Zenya 7.0 there will be releases with additional functionalities. We will communicate about the exact scope of Zenya 7.0 and subsequent releases as soon as they are final.
As indicated in the RISK update webinar of January 31st, all existing RISK customers will be personally informed about the switch to Zenya RISK Nextgen.
Final release date
As usual, the final release date will be communicated via status.infoland.nl 4 weeks prior to a release. The release notes can be found on update.infoland.nl. Do you want to know if your organization is on the SaaS Default or Slow ring? Then take a look at https://my.infoland.eu or ask your application manager.
Community groups
The development of Zenya BOOST and the new generation Zenya RISK is done in co-creation with customers. Would you like to know more about this or actively contribute? Then join these community groups.
*) Zenya BOOST is a new Zenya module for which your organization needs a license.
**) The new generation Zenya RISK will be delivered behind a so-called 'feature switch'. This means that organizations that already use Zenya RISK can their appropriate moment to switch to this new generation. Preparations for this can take place in advance. Organizations that do not use Zenya RISK yet will start immediately in the new generation as from Zenya 7.0, if they have a license for Zenya RISK.