Are you looking for Infoland Support and are you the service desk contact person for your organization? Then you can log in to mijn.Infoland.nl.
Here you will find relevant information for you and your organization. In addition, you can arrange various things yourself.


Relevant information
On mijn.Infoland.nl you see:
Which (incident) tickets you have submitted to the service desk;
Which iProva modules you use;
Which projects are running;
Who your account manager is;
Whether a new version of the software is available;
The statuswe of the SaaS environments;
The status of your reported bugs, the total number of reported bugs and the order in which they are resolved.


Arrange yourself

You can also arrange a number of things yourself
Create a new ticket for the service desk;
Request information about application management support or request support options;
Download software updates (for on-premise installation);
Create new service desk contacts or manage and deactivate existing service desk contacts.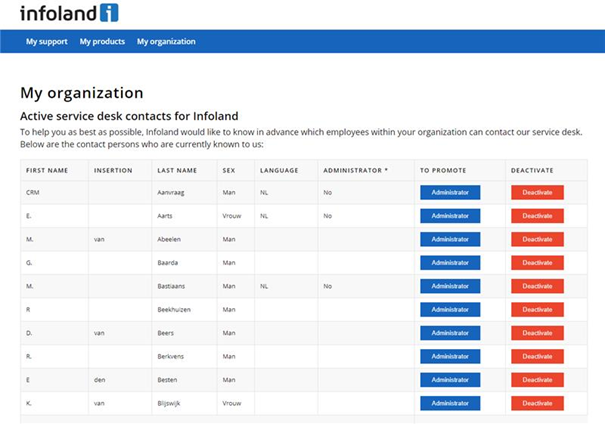 And when do I consult the community, the update page or the status page?
Community
Do you have a question about the design and use of the software?
Then we recommend that you use the community. You can search the community to see if your question has already been asked before. Has the question not been asked before? Then you can start a topic and ask your question.
Other community members can then share their knowledge with you and answer your question. In addition, an Infoland community team is active that continuously monitors the community and answers questions personally.

Update.Infoland.nl
Do you want to know everything about our software releases? Consult the update page. Here you will find all information about recent and upcoming software releases.

Status.Infoland.nl
On the status page you will find the availability status of the Infoland services, possible disruptions and when scheduled maintenance, including the roll-out of Infoland updates, will take place. You can also subscribe to this website so that you will receive notifications when there are disruptions or maintenance is scheduled.